NEW SAXONY AND TREFZGER PROJECTS
In 2008, Paul Trefzger and Rex Strother began producing digitally-distributed CD reissues on the Saxony Records label. This was a natural offshoot of Paul Trefzger's personal record collection. CD reissues are listed below in the order released.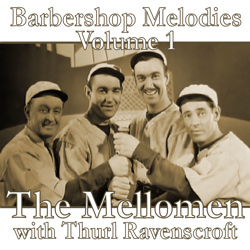 THE MELLOMEN with THURL RAVENSCROFT
"Barbershop Melodies, Volumes 1-3"
The Mellomen were a popular singing quartet from the late 1940s through the mid-1970s. The group was founded by Thurl Ravenscroft and Max Smith and recorded under a variety of names.
Thurl Ravenscroft is famously known as the voice of "Tony the Tiger" (they're GREAT!) and for singing "You're a Mean One, Mr. Grinch" in the original "How The Grinch Stole Christmas."
[ GO TO BIOGRAPHY AND DISCOGRAPHY ]

Between 2004 and 2007, Paul Trefzger and Rex Strother co-produced CD reissues for the Jasmine label. They devoted themselves to neglected artists from 1948-1956, when vocalists were swept aside for the emerging phenomenon of rock and roll. Their release for each artist included a web Image Gallery, thorough research, contacting an artist or artist's family for contemporary interviews, and building a comprehensive discography (links provided). Jasmine releases are listed below in the order released.
RICHARD HAYES
"The Old Master Painter"
Born January 5, 1930, in Brooklyn, New York, Richard Herbert Hayes began his recording career with Mercury at the age of 19, during the golden age of pop singers, the "Interlude Era" between the crooners of the mid-1940s and the rockers of the mid-1950s. This 2-CD set includes a November 2004 interview with the performer, looking back on his career.
[ GO TO BIOGRAPHY AND DISCOGRAPHY ]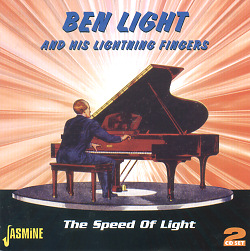 BEN LIGHT
"The Speed of Light"
Born in 1893, in New York City, pianist Benjamin Leight had a long career under the stage name "Ben Light." In his early days, he worked small cafes and headlined vaudeville circuits. In the late 1930s, he recorded "party" records and toured with Cliff "Ukelele Ike" Edwards. Beginning in the late 1940s, he recorded for the Tempo, Capitol and X labels. Ben put out his last album in 1959. He passed away on January 6, 1965.
[ GO TO BIOGRAPHY AND DISCOGRAPHY ]

TONI ARDEN
"I Can Dream, Can't I?"
Vic Damone called her "The greatest girl singer in the world." Frank Sinatra called her "A singer's singer." Often described as "a little girl with a big voice," Toni Arden has enjoyed a long and productive career of recording and performing which began when she was a mere 15 years old and still "Antoinette Ardizzone." CD set includes 2005 interview with Ms. Arden.
[ GO TO BIOGRAPHY AND DISCOGRAPHY ]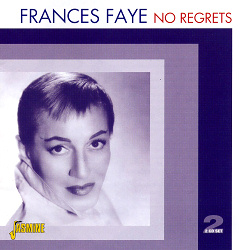 FRANCES FAYE
"No Regrets"
Frances Faye was born in Brooklyn on November 4, 1912. "I was born on Stone Avenue in Brownsville and I've been stoned ever since," quipped Faye. The lesbian cabaret singer enjoyed a performing and recording career that went from the late 1920s to the early 1980s. This CD set included all her output on Capitol, her first two LPs on Bethlehem, rarities from the 1930s and 1940s, and extensive liner notes..
[ GO TO BIOGRAPHY AND DISCOGRAPHY ]

JUNE VALLI
"Body & Soul"
June Valli, stage name of petite, heart-faced June Foglia, was born in the Bronx to musically-inclined Italian-speaking parents, and was discovered quite by accident singing at the wedding of a family friend. CD liner notes include February 2006 interview with saxophonist and band conductor James Merchant, married to June from 1966 until her passing in 1993.
[ GO TO BIOGRAPHY AND DISCOGRAPHY ]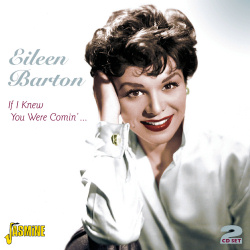 EILEEN BARTON
"If I Knew You Were Comin'"
Eileen Barton's parents were vaudevillians who played The Palace Theater while Eileen's mother was seven months pregnant. "I was on stage before I was born." Joining the act as a kid, Eileen worked on the stage, then in radio and television, before beginning a recording career that released one of the best-selling songs ever released on an independent label, the #1 If I Knew You Were Comin', I'd've Baked a Cake." CD liner notes include 2005 interview with Ms. Barton.
[ GO TO BIOGRAPHY AND DISCOGRAPHY ]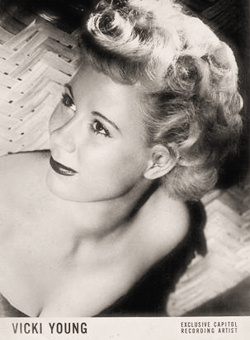 VICKI YOUNG (Upcoming)
Born Wanda Cleo Stegall, Vicki Young was the first of four talented children born into one of the first professional family western style bands, "The Stegalls." By four, little Wanda was singing and already playing the banjo, ukulele and drums. Later, as Vicki Young, her Capitol recordings show genuine R&B styling; although personal tragedy sent Vicki into early retirement. CD liner notes will include 2007 interviews with Casey Stark (Vicki's niece) and Hal Blaine (Vicki's second husband).
[ GO TO BIOGRAPHY AND DISCOGRAPHY ]



[ Home ] [ The Story ] [ Discography ] [ The Teardrops ] [ Other Artists ] [ Media ] [ For Sale ]
San Francisco, CA
Tel: (415) 861-5730
Email: Saxony Records
&nbsp