OTHER SAXONY ARTISTS
THE CABARETS
recorded behind vocalist Tommy Lysaght on "There Must Be a Way" and "Times is Tough" on Saxony 1002 (Released July, 1962).
At this time, no photo of the Cabarets is available.

THE CHARMAINES
The Charmaines were Marian "Gigi" Jackson, Dolores (last name unknown) and Irene Vinegar (but pronounced VINE-gar). Because they were contractually bound to Fraternity, Saxony did not release anything by the Charmaines until the 1990s [these later releases can be found on the discography page]. However, they were regularly used to back up Fred Martin, Skipper Ryle and others on occasion.
They later recorded "Girl Crazy" on Columbia in the late 1960s under the name "Gigi & The Charmaines,"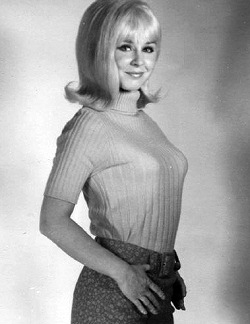 GERRI DIAMOND
Gerri was singing around Cincy when discovered by Bud Reneau, who found her to be a big, dirty voice in a slim, sexy package.
Unfortunately, none of her recordings were released in the 60s due to financial limitations, but her "I'm Breaking the Law" (Saxony 3001, Released August 1997) was one song that might have been a hit when the "wax was still hot." The tune shows off Gerri's subtle smolder.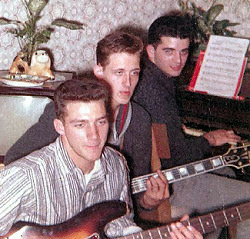 THE MATADORS
George "Bud" Reneau's original band, with Bud on guitar, Warren Hauck on bass, Tom Dooley on Piano and David Listerman on drums.
The Matadors often appeared behind Saxony Record vocalists.

SKIPPER RYLE
Cincinnati deejay Glenn "Skipper" Ryle took to the mic on Saxony 1004 (Released March 1963), sing/talking over The Matadors' great dance beat for Frank Moe's Halloween novelty song, "Wolf Gal."
The flip side was another novelty song, "The Puddy-Tat Song," written by Fred Martin and Frank Moe, with a mashed potato beat by The Matadors and The Charmaines' able vocalizing (the gals make quite a convincing feline chorus).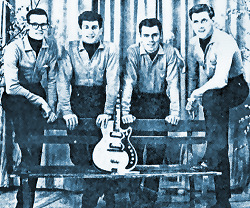 THE TWI-LIGHTERS
The members of the Twi-Lighters met in the military with Fred Martin at lead, joined by Joe Indelicato, Lynn Holthaus and Ed Breamer. The Twi-Lighters favored close harmony and could "rumble" with any doo-wop group of the day.
Their first release, "To Love in Vain," was written by Paul Trefzger and released on the Fraternity label in October of 1961 (Fraternity 889). That track and its flip "The Beginning of Love," were recorded by Paul and Bud at a small Cincinnati studio in Mariemont, and received reasonable airplay, leading to The Twi-Lighters working a TV dance party and record hop appearances. That success gave Paul and Bud the confidence to establish Saxony Records.



[ Home ] [ The Story ] [ Discography ] [ The Teardrops ] [ Other Artists ] [ Media ] [ For Sale ]
San Francisco, CA
Tel: (415) 861-5730
Email: Saxony Records
&nbsp